Transit Watch
---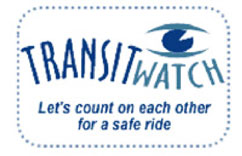 Let's Count on Each Other for a Safe Ride
The Transit Watch campaign is a nationwide safety and security awareness program designed to encourage the active participation of transit passengers and employees in working together to maintain a safe transit environment. The campaign provides information and instructions to transit passengers and employees so that they know what to do and whom to contact in the event of an emergency in a transit setting. Transit Watch invites riders and employees to be the "eyes and ears" of their local transit system.
Transit Watch was developed by the U.S. Department of Transportation's Federal Transit Administration (FTA) in partnership with the American Public Transportation Association (APTA), the Community Transportation Association of America (CTAA), the Amalgamated Transit Union (ATU), and the U.S. Department of Homeland Security's Transportation Security Administration (TSA).
In response to the need for increased attention to safety and security in today's post-9/11 environment, the Yuma County Intergovernmental Public Transportation Authority (YCIPTA) is pleased to participate in the nationwide efforts to ensure safety and security on all YCAT buses, transfer terminals and maintenance facilities.
With the help of the Yuma Police Department, Somerton Police Department, San Luis Police Department, Wellton Police Department, Cocopah Police Department, Yuma County Sheriff and Arizona Western College Police Department, Transit Watch can be implemented on YCAT buses. Bus placards, posters and brochures are strategically displayed in buses encouraging riders to report anything suspicious while using transit.
Any suspicious activity should be reported to the bus operator, 911 or the Police Departments, by calling:
What You Can Do? Be On The Alert For Suspicious...
Be on the Alert for Suspicious Package
If you spot an unattended package, look for the following:
Placement in an out-of-the-way location
Individuals in the act of abandoning the package and hastily departing the area
Unusual attached batteries, wires, tanks, bottles or bags that might contain chemicals
An attached message
Nearby individuals showing signs of illness or distress
A suspicious cloud, mist, gas, vapor, odor or seeping fluid
Be on the Alert for Suspicious Behavior
If you spot any suspicious individuals engaged in questionable activity, look for the following:
Visible signs of nervousness
Excessive sweating
Sprayer bottles or aerosol canisters
Inappropriate clothing that is excessively baggy or too heavy in warm weather
Be Prepared
Here are some tips to be sure that you are prepared:
Select a location outside your home as a family meeting point should your home need to be evacuated
Create an advanced plan for maintaining contact with family members if separated as a result of an emergency
Identify alternate routes and means of reaching your meeting point in the event your main route is impassable
Keep a record of all contact and emergency information and update it regularly as needed
Make sure your emergency information and contact numbers are with you at all times
Keep a local map handy for reference
Create an advanced plan for maintaining contact with close friends and colleagues during an extended emergency period.
Download Transit Watch Tips Brochure

Safety and security are critical issues to passengers and transit employees alike. Various aspects of daily life and travel involve some risks, of course. However, making your ride as safe and secure as it can possibly be depends on everyone working together. An emergency evacuation is rare. However, under certain circumstances passengers may need to be evacuated as a safety precaution or to avoid danger. Police emergencies, natural disasters (flooding, earthquakes and the like), fires, and collisions are among various situations that require quick thinking and action in order to avoid potential dangers. In the unlikely event that an evacuation is required, it is very important to be calm and listen to announcements or instructions from uniformed officials.
During An Evacuation:
LOOK.
Locate the nearest accessible exit -- it may be an emergency door or window.
Look around as you prepare to exit the transit vehicle or facility in order to avoid hazards, such as smoke, debris and unusual substances.
Report anything hazardous or unusual to emergency personnel.
Notice others who may need help and offer assistance. Children, the elderly and disabled individuals may require help from others during an evacuation.
LISTEN.
Pay attention to announcements.
Listen and remain calm.
Follow the instructions from transit employees and emergency personnel.
LEAVE.
Move quickly toward safety, leaving behind large or unwieldy objects like suitcases, strollers and heavy items.
If evacuation is not possible through normal doors, use emergency doors or windows to exit safely.
Be on the lookout for hazards and people to help, and listen to transit employees and emergency personnel while you leave the area.

---