More in this section
Community Transit Committee
---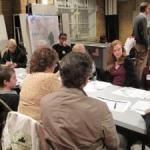 YCIPTA is looking for 11 excited YCAT riders that is interested in joining the YCAT Community Transit Committee!
The goal of the YCAT Community Transit Committee is to advise the Yuma County Intergovernmental Public Transportation Authority Board of Directors regarding public transit matters in Yuma County. If the selected to serve on the committee, YCIPTA staff will make a recommendation to the YCIPTA Board of Directors for appointment to this committee to serve staggered two year terms.
The YCAT Community Transit Committee is advisory in nature and provides advice regarding the following matters:
Acts as a sounding board for policies and plans.
Provides a communication link between the residents of the service area and YCIPTA Board of Directors.
Recommends plans, policies and procedures to the YCIPTA Board of Directors.
Promotes agency accountability.
Form community partnerships.
Addresses other public transit matters as requested by the Board of Directors or staff.
Citizen input is essential to the success of a transportation planning process. Since the general public is both the user and the financier of YCAT, it is important for the community to participate in identifying transportation issues and comment on potential alternatives.
Applications are being taken on continuous basis. If you are interested in joining this committee, please download an application and either email it to: skreger@ycipta.az.gov, fax to: (928) 783-0309 mail it to: Shelly Kreger, Transit Director, YCIPTA, 2715 East 14th Street, Yuma, AZ 85365-1900.
For more information, please call (928) 539-7076, ext 101.
---