Mobility Devices
---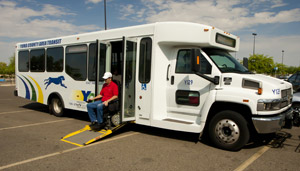 All YCAT vehicles are equipped with wheelchair lift or ramps and a wheelchair securement area with space for two wheelchairs. The bus operator will provide assistance with normal boarding or exiting, wheelchair securement, and operation of the lift. Any additional assistance would require the use of a Personal Care Attendant (PCA).
YCAT bus operator are required to secure all wheelchairs before leaving the bus stop. For safety reasons, YCAT recommends using your own seat belt to secure yourself in your wheelchair or other mobility device if available. 
All riders are strongly encouraged to use the shoulder and lap belts provided on the vehicles. Most YCAT buses kneel by lowering the front floor for easier boarding by passengers with mobility limitations. Please let the operator know if you need to use the bus kneeling feature upon boarding or exiting.
Passengers using a scooter may be asked to transfer to a seat on the bus. All mobility aids must be able to fit within the allocated space  and cannot exceed the capacity of the wheelchair lift or ramp. If the mobility aid cannot fit the lift platform or the ramp, the passenger will not be able to ride. Mobility devices with leaking batteries or fluids will not be allowed to ride. All mobility devices must be secured to the bus in order to ride.
All transit information printed is available in an accessible format upon request by calling YCAT at (928) 783-2235 or by dialing 711 through the Relay Service for TDD and TTY users.
If an YCAT bus without a working wheelchair lift arrives at your bus stop, YCAT will send a road supervisor or YCAT OnCall bus within 30 minutes to take the passenger direct to their destination free of charge
---