Routes & Services
---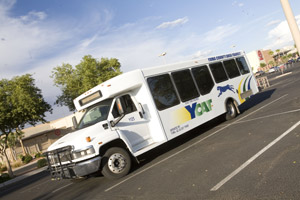 YCAT provides fixed route, vanpool and demand responsive bus service throughout southwestern Yuma County including the cities of Yuma, San Luis, Somerton, Town of Wellton, Cocopah Reservations and unincorporated communities of Yuma County, including Gadsden, Ligurta and Fortuna. Additional services are provided to Winterhaven and El Centro, CA and the Quechan/Fort Yuma Reservation. You can count on YCAT to provide transit services - Monday through Friday from 5:27 a.m. to 8:15 p.m. and Saturday from 9:09 a.m. to 6:43 p.m.
Most routes meet at the Downtown Yuma Transit Center on 3rd Street and Gila Street,  Cocopah Casino Resort, El Centro Regional Bus Transfer Terminal (transfer to Imperial Valley Transit routes), Arizona Western College and Walmart at the corner of 26th Street and Avenue B in Yuma, also known as the West Yuma Transfer Hub. Click here for detailed maps.
Routes are effective Tuesday, December 1, 2015
Download the YCAT Rider's Guide in English and Spanish
YCAT Fixed & Flex Routes
YCAT fixed and flex routes generally operate Monday through Saturday with the exception of Gold Route 8, Silver Route 9, and Turquoise Route 10, which operate limited days (see schedule for details). No YCAT service is provided on Sunday and the following holidays: New Years Day, Dr. Martin Luther King Day, President's Day, Memorial Day, Independence Day, Labor Day, Veterans Day, Thanksgiving Day and Christmas Day. Saturday schedule operates on the day after Thanksgiving, Christmas Eve and New Years Eve.
YCAT Individual Schedules and Maps Listed Below:
Orange Route 2 - Colleges/Fortuna Foothills - Downtown Yuma Transit Center to Arizona Western College/Northern Arizona University/University of Arizona via East Yuma.
Green Route 4 - Central Yuma Circulator - Clockwise Loop throughout the City of Yuma via Pacific Avenue.
Green Route 4A - Central Yuma Circulator - Counter Clockwise Loop throughout the City of Yuma via Avenue B.
Blue Route 5 - Quechan Shuttle - Service throughout the Quechan/Fort Yuma Indian Reservation serving Paradise Casino, Quechan Casino Resort, Andrade and Winterhaven, CA as well as Downtown Yuma.
Purple Route 6A - Avenue A - Cocopah RV Resort and North Cocopah Reservation to West Cocopah Reservation via East Cocopah Reservation (southbound only).
Gold Route 8 - Interstate 8/Wellton - Arizona Western College/Northern Arizona University/University of Arizona to Wellton via Interstate 8 and Fortuna Foothills. (Operates Monday - Friday only)
Silver Route 9 - South County AWC Connector - Arizona Western College/Northern Arizona University/University of Arizona to San Luis via SR 195. (Operates Monday-Thursday when college is in session)
Turquoise Route 10 - Interstate 8/El Centro/Yuma - Downtown Yuma Transit Center via Paradise Casino and Winterhaven to Downtown El Centro (Operates Monday, Wednesday and Friday only)
Yellow Route 95 - Highway 95 South - Downtown Yuma Transit Center to San Luis via Somerton, Cocopah Casino, and Gadsden.
YCAT OnCall - ADA complementary paratransit service for persons with disabilities unable to ride YCAT buses due to a disability.
YCAT Vanpool - Commuter services to or from employment sites as long as the van starts, ends or travel through Yuma County.
Important Information
Times are approximate and may vary due to road conditions, weather, traffic conditions and other unforeseen circumstances. YCAT assumes no responsibility for acts or omissions of others, or for lost or stolen or damaged baggage or other personal articles, or for personal items left behind. YCAT passes are non-refundable and non-transferable. Timetables shown are approximate and not guaranteed. Passengers should allow extra time for delays.
---