More in this section
Advertising
---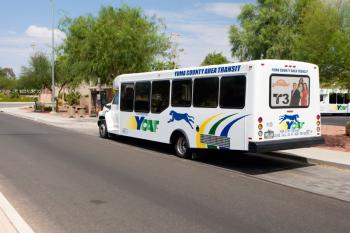 YCIPTA offer a variety of effective advertising space. Unlike radio, TV, newspapers or magazines which present so much noisy advertising; on many YCIPTA materials, yours will be the one traveling ad seen by thousands.
YCIPTA presently allows for advertising on board transit buses on the interior and exterior, on www.ycat.az.gov, on the wi-fi homepage, inside the YCAT Rider's Guide and on transit bus shelters and benches throughout the YCAT service area.
If you are interest in advertising with YCAT on transit buses, shelters, inside the Rider's Guide and on the web page, please contact:
TBD
Download Advertising Media Kit for Buses, Bus Shelters, Rider's Guide and Website
Download YCIPTA Advertising Policy
Advertising Demographics In Yuma County
There are 160,026 people, 53,848 households, and 41,678 families residing in the county. The population density was 29 people per square mile (11/km). There were 74,140 housing units at an average density of 13 per square mile (5/km). The racial makeup of the county was 68.3% White, 2.2% Black or African American, 1.6% Native American, 0.9% Asian, 0.1% Pacific Islander, 23.6% from other races, and 3.2% from two or more races. 50.5% of the population were Hispanic or Latino of any race. 43.7% reported speaking Spanish at home.
There were 53,848 households out of which 36.9% had children under the age of 18 living with them, 62.3% were married couples living together, 11.2% had a female householder with no husband present, and 22.6% were non-families. 18.5% of all households were made up of individuals and 8.9% had someone living alone who was 65 years of age or older. The average household size was 2.86 and the average family size was 3.27.
In the county, the population was spread out with 28.9% under the age of 18, 10.0% from 18 to 24, 25.6% from 25 to 44, 18.9% from 45 to 64, and 16.5% who were 65 years of age or older. The median age was 34 years. For every 100 females there were 102.00 males. For every 100 females age 18 and over, there were 101.10 males.
The median income for a household in the county was $32,182, and the median income for a family was $34,659. Males had a median income of $27,390 versus $22,276 for females. The per capita income for the county was $14,802. About 15.5% of families and 19.2% of the population were below the poverty line, including 27.9% of those under age 18 and 8.7% of those age 65 or over.
As of the 2010, its population was 195,751, an increase of 35,725 people since the 2000 census count of 160,026.
---