Discount Card for Students, Seniors and Passengers with Disabilities
---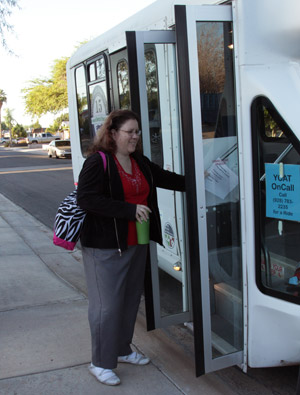 The purpose of the YCAT Discount ID Card is to provide eligible individuals with fare discounts as mandated by state and federal law. With a YCAT Discount ID Card, students (ages 5-18) attending a school, persons with qualifying disabilities and senior citizens (65 or over) are entitled to a reduced fare on YCAT buses. The YCAT Discount ID Card costs $3.00 and is good up to three years.
People who have a YCAT Discount ID Card have the option of buying a discounted 31-Day YCATPass, Day YCATPass or 10-Ride YCATPass as well.
Basic Eligibility
How do I demonstrate my eligibility for the Discount ID Card?
Basic Eligibility

To qualify for Basic Eligibility, you must present one of the following with your application:

Student ID or proof of enrollment into a school for ages 5 through 18.

Medicare Card (not Medi-Cal).

Arizona MVD or California DMV Placard registration for a parking placard. Card will expire same date as Placard.

Other Transit Agency or Visitor Card issued to you by another transit agency.

Proof of Age - 65 or older. May apply 30 days prior to 65th birthday

Proof of Veterans Disability - A copy of your Service Connected Disability I.D. Card and your VA Certification demonstrating a disability rating for aid and attendance, or a service-connected disability with a rating level of 50% or higher.

Persons with Disabilities Eligibility

If you have a disability, your application must be completed by one of the following licensed professionals:

Licensed physicians with an M.D. or D.O. degree, licensed physician's assistants and nurse practitioners may certify in all categories in which they are licensed to diagnose;

Licensed chiropractors, categories 1, 2, 3 and 4

Licensed podiatrists, disabilities involving the feet under categories 1, 2, 3 and 4

Licensed optometrists, category 9

Licensed audiologists, category 10

Licensed clinical psychologists and licensed educational psychologists, categories 12, 15, 16 and 17

Licensed marriage and family counselors (MFCC) and licensed clinical social workers (LCSW), category 17
Application Process
Complete the application form. Incomplete applications will not be accepted.

Call (928) 783-2235 or email info@ycipta.az.gov to schedule an appointment for processing this card.

Present a valid photo identification - such as a current driver's license, student identification card, Identification Card, passport, Alien Registration Card, Military Identification Card or Military Dependent Card (originals only).

Pay the appropriate fee:

$3.00 New, renewal, or visitor

$5.00 Replacement (These fees are non-refundable).
Your photograph will be taken and your eligibility will be verified, when you submit your application.
Upon receiving your YCAT Discount ID Card, you are immediately eligible for reduced fares on all public transit systems. No additional proof of eligibility is required, but you must show the YCAT Discount ID Card at the time you pay the fare.
Where to Apply for a YCAT Discount ID Card:
YCAT Bus Facility - 2715 East 14th Street, Yuma, AZ 85365. This facility is accessible via Orange Route 2.
Call (928) 783-2235 to schedule an appointment for processing this card..
YCIPTA staff also visit locations such as senior centers located throughout Yuma County on an as needed basis. When YCIPTA staff come out to community sites, a picture is taken and applications are accepted. Applicants must bring a valid photo ID with the application. A $3.00 fee is collected.
Downloadable Forms
---