Special Services
---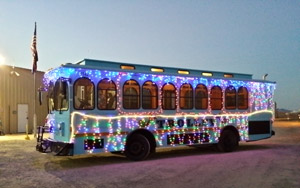 YCAT provides these special services listed below for the general public:
NightCAT

 Download NightCAT Schedule - Effective December 1, 2015.
View Silver Route 9/NightCAT 2014-2015 Service Calendar
This flexible demand responsive service operates Monday through Friday when Arizona Western College/Northern Arizona University/University of Arizona (AWC/NAU/UA) is in session departing the bus stop on campus at 7:45 p.m. and 9:45 p.m.
In addition, NightCAT will now pick up passengers at the following locations upon advance reservation to (928) 783-2235 prior to 6:00 p.m.:
Downtown Yuma Transit Center

Yuma Palms Regional Center (Castle Dome Avenue/Yuma Palms Parkway)

Yuma Regional Medical Center (24th Street/Avenue A - Westbound)

West Yuma Transfer Hub

Cocopah Casino

Paradise Casino

Quechan Casino Resort

San Luis (2nd Avenue/B Street - Northbound) 

Somerton (Main Street/State Avenue - Southbound)

Yuma International Airport
Passengers would tell the bus operator where they need to go and the bus will drop them off at the nearest YCAT bus stop to the passengers' home. Service area includes Winterhaven, Yuma, Somerton*, San Luis*, Cocopah* and Quechan/Fort Yuma Reservations, Fortuna Foothills and unincorporated areas within a 3/4 mile radius of existing YCAT routes only.
Regular YCAT fares apply for this service. AWC, UA and NAU employees, faculty and students ride free by showing their ID card with a valid YCAT sticker.
If you need to reach customer serive for the NightCAT after 6:00 p.m., please call (928) 539-7076, ext 240.
HolidayCAT
Each December, YCAT offers a tour of holiday lights around Yuma for one hour. Buses depart from Downtown Yuma Transit Center at 7:00 p.m. Due to the popularity of this service, YCIPTA will strive to have additional vehicles on this route, however, service is provided on a first come, first served basis.
The route served includes the Fortuna Foothills as well as Central Yuma on a tour that takes approximately one and one half hours. Hot drinks and snacks are served prior to boarding the buses.
Fare is $2.00 cash only, service is not eligble for any discounts. 
Historic Yuma Trolley Tours
All aboard!  Step aboard Yuma's historic downtown trolley and relax while our tour guide points out sites from yesteryears.  Hear stories of pioneering families, riverboats, brothels, and booming businesses that once lined Main Street.   Tours start at 10am and end at noon.  Seating is limited so early reservations are recommended.
Tickets: $25 per person
Purchase Tickets: View tour dates and check ticket availability.  Purchase tickets online or call the Tour Line at 928-782-1842.
This service is open to the public. Reservations are required and are scheduled on a first come first served basis. 

Ghost Trolley Tours
Love haunted history?  Join us, if you dare, for a night trolley tour through the streets of Yuma's historic downtown district.  Hear hair-raising stories of murder and mayhem from Yuma's days of old.
Step out into the dusty Yuma Territorial Prison cemetery for a close-up look at all who lurk in the night.  Following the trolley tour, Yuma Ghost Hunter, Dennis Quesenberry will setup his ghost detecting equipment in the oldest room of the Sanguinetti House Museum — perhaps spirits from the past will join us!
Tickets: $32 per person
Purchase Tickets: View tour dates and check ticket avialability. Purchase tickets or call the Tour Line at 928-782-1842.
This service is open to the public. Tours are approximately two hours—from start to squeamish!  
---