YCATPass (Smart Card)
---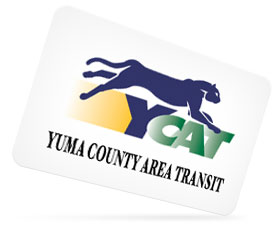 YCATPass is an all-in-one electronic transit card that keeps track of any passes, and cash value that you load onto it, while applying all applicable fares, discounts and transfer rules. This lets you customize your card for your own transit needs. The YCATPass card can hold passes as well as up to $300 in cash value, 1-Day, 10-Day, 31-Day or 10-Ride at one time for the Basic and Discount fare categories. Cash value on your YCATPass card can be used to ride any YCAT bus in Yuma County.
You can add value (in the form of both passes and cash value) to your card as you go.
As you board the bus, touch your card to the YCAT logo on the card reader located on your right (before the farebox). The device will read the YCATPass card to see if you have a valid fare document: Day, 10-Ride or 31-Day pass or electronic cash on the card. When you see a green GO and hear a beep, you are free to take a seat. When you see a red STOP and hear a warble, you need to pay additional fare as you do not have enough fare on your YCATPass.
Discounted fares are only available on a special discount YCATPass and the machine will automatically deduct the proper discounted fare
YCATPass has a special feature. When you ride more than two buses each day when using an "electronic cash" (e-cash) purse, the YCATPass card automatically turns into a Day YCATPass! It will no longer deduct money and the value is either $3.50 for basic riders and $1.75 for discount riders! A significant discount from paying regular cash fares.
Fare Media

YCATPass Price

Discount Difference from Paying Cash On Bus (Less)

One Way

$1.75 - Basic

75 cents - Discount

25 cents

Day YCATPass

$3.50 - Basic

$1.75 - Discount

$1.50 - Basic

75 cents - Discount

31-Day YCATPass

$60.00- Basic

$30.00 - Discount

50 cents per trip

10-Day YCATPass

$35.00 - Basic

$17.50 - Discount

25 cents per trip

10-Ride YCATPass

$17.50 - Basic

$7.50 - Discount

25 cents per trip
More details on the YCAT fare structure is available by clicking here.
YCATPass is Now Here!
YCAT will phase-in the use of YCATPass cards as of September 2013. Passengers will be able to purchase YCATPass Cards at YCAT Bus Facility, 2715 East 14th Street, Yuma, AZ 85365 and can load e-cash (up to $300) for immediate use on YCAT buses. 10-Ride, 31-Day, 10-Day and Day passes are available.
If you do not have a pass loaded on your YCATPass card and use e-cash on your YCATPass card as fare on YCAT buses, the system will charge you the appropriate single ride fare every time you board, at a discounted rate as compared to paying cash until you ride 2.5 times, then the YCATPass card converts to a Day YCATPass for unlimited rides for the rest of the day (until 11:59 p.m.).
If you are a senior (65 years old and older), persons with disability or student (ages 5 to 18 years old), you will need a special discount YCATPass. Please request this special discount YCATPass upon showing proof of eligibility for the card at the YCAT Bus Facility, 2715 East 14th Street, Yuma, AZ 85365-1900 so that discounted fares are deducted. You may apply for discount eligibility by learning more details from the Discount Card webpage.
YCATPass are non-transferable and non-refundable. Each card has a serial number and can be registered so that if a card was lost, funds can be transferred from the old pass to the new pass. YCIPTA is not responsible for lost or stolen YCATPasses or if the funds are deducted prior to reporting the lost/stolen YCATPass card. YCIPTA encourages all purchasers of YCATPasses to register their YCATPass card at the sale of purchase or shortly thereafter by calling YCAT at (928) 783-2235 or by emailing your information and card serial number to info@ycipta.az.gov.
Frequently Asked Questions (FAQs)
1. How do I use the new YCATPass?
YCATPass users will tap their card on readers when boarding YCAT buses. 20 YCAT buses have readers installed.
2. How do I know if my YCATPass was successfully read?
The passenger and bus operator will see a green light on the reader and hear a sound. The passenger can also check his or her card status on the LCD display at the top of the Smart Card Reader by asking the bus operator.
3. Whom do I call if I have questions about the new YCATPass system?
Please (928) 783-2235 (TDD/TTY: 711), Monday - Saturday between 8:00 a.m. and 6:00 p.m.
4. Is there a charge for the new YCATPass?
There is an initial charge for a new YCATPass. Riders will pay $2 for the initial card and $5 for lost or stolen cards.
5. How does the YCATPass system work?
Each YCATPass reader has an internal antenna that connects to the system when customers "tap" the card reader. The YCATPass automatically recognizes a valid pass. Each card is re-loadable at the YCAT Bus facility, 2715 East 14th Street, Yuma.
6. Can I share my YCATPass with friends or family? Each card is allowed only one use per boarding. What this means is that if you use your YCATPass to board a bus, you cannot hand your card to another rider. Riders will need their own YCATPass. 
7. How do I purchase a YCATPass?
All YCATPasses can be purchased at the YCAT Bus facility, 2715 East 14th Street, Yuma. Preloaded 31-Day, 10-Day and 10-Ride YCATPasses may be purchased at the locations listed by clicking here.
8. How do I reload additional e-cash or pass products?
Only the YCAT Bus facility, 2715 East 14th Street, Yuma is equipped to load e-cash and pass products at this time. 
Vendor Locations

Pre-loaded YCATPasses are also available to purchase with our vendor.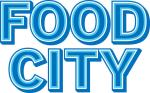 Food City #114
1240 W. 8th St
Yuma, AZ 85364
Phone: (928) 782-3821
Food City #124
2600 W. 16th Street
Yuma, AZ 85364
Phone: (928) 343-0840
Food City #127
579 N. Main St.
San Luis, AZ 85349
Phone: (928) 627-7700
 Additional Information 
Download YCATPass English Brochure
Download YCATPass Spanish Brochure
---